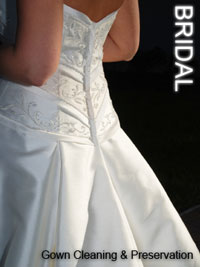 YOUR SPECIAL DAY
There is no garment that is valued more in a woman's lifetime than her wedding dress.  Why not preserve that gown in the same pristine condition it was on your wedding day?  Dry Clean Safari can help capture that moment in time.
HOW WE DO IT
We first gently clean and press the gown.  Then, we place it in a memory box that you select enclosed with special acid tissue to prevent yellowing.  Finally it is sealed airtight to preserve the gown for years to come.
 Contact us today to find out more about this service.